Most Walkable Neighborhoods in Seattle
Written By
Jordan Newsom
Last Updated Jun 30, 2022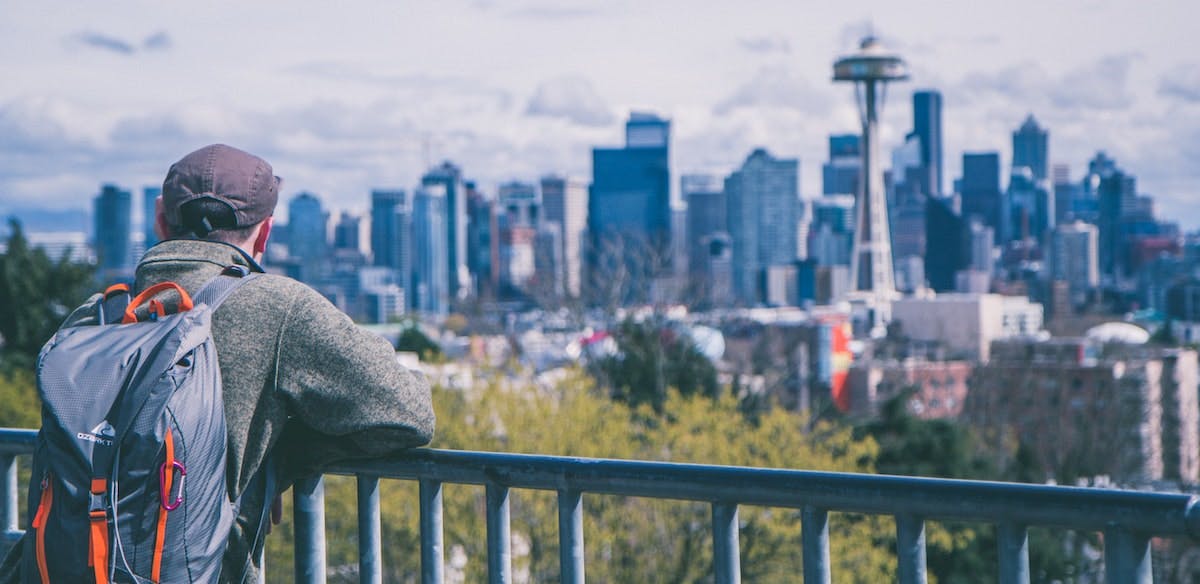 Seattle offers a mix of homes, townhouses, and condos in distinctive, engaging, and walkable neighborhoods. The city offers residents the opportunity to join vibrant communities and a thriving job market. While each area offers unique benefits, you can find hip coffee shops, restaurants, and bars throughout Seattle. These Seattle neighborhoods have plenty of parks, water, and outdoor activities to enjoy. If you're looking for good places to invest in real estate, explore our picks for the most walkable neighborhoods in Seattle. 
Queen Anne
The Queen Anne neighborhood is one of Seattle's most widely recognized areas. This neighborhood is home to the iconic Space Needle and features some of the most spectacular views in the city. The Space Needle is part of the Seattle Center, which also includes the Pacific Science Center, Chihuly Garden & Glass, and the Museum of Pop Culture. 
The western border of Queen Anne meets Lake Union, which is popular for several watersports and boating. This area can be split into Upper and Lower Queen Anne, both known for their many hills. The northern part of Queen Anne features historic bungalows and craftsman-style homes. The southern part of Queen Anne is more of an urban center. 
If exploring the neighborhood doesn't offer enough walking opportunities, there are several trails in the community. Once you've grown tired of exploring Queen Anne, consider hopping on the monorail, which will take you to downtown Seattle. 
Fremont  
Fremont is a one-of-a-kind neighborhood located northeast of Queen Anne. Step out in Fremont and experience everything quintessential about Seattle, including quirky shops, decadent dining opportunities, and entertaining attractions. The Fremont neighborhood is home to both Adobe and Google offices. The Brewery District allows residents to stroll from one brewery to another--be sure you stop off at Fremont Brewing. 
The Fremont Sunday Market, which runs year-round, allows you to purchase locally made and grown goods in your community. Opportunities to explore the outdoors are plentiful in Fremont. Explore the Fremont Trail, Gas Works Parks, the Burke-Gilman Trail, or Golden Gardens Park. 
Pioneer Square 
Pioneer Square is one of the most historically significant neighborhoods in Seattle. A tour through the neighborhood known as the birthplace of Seattle features cobblestone streets and red-brick buildings. Stop off at the city's oldest bar, Central Saloon, which welcomes patrons into a little slice of Seattle's history. Pioneer Square's First Thursday Art Walk offers residents the chance to meander through the neighborhood and soak up the vibrant arts scene. 
Pioneer Square was originally one to two stories below the current neighborhood. After the Great Seattle Fire in 1889, the streets were raised to their present elevation, leaving parts of the original city below. Bill Speidel's Underground Tour allows you to walk some of Pioneer Square's original streets.  
Chinatown International District 
The Chinatown International District or C-ID neighborhood is the vibrant epicenter of Asian-American Seattle. This multi-ethnic community stretches from 4th Avenue to Rainer and is bordered by Pioneer Square and SoDo. C-ID consists of three smaller districts: Chinatown, Japantown, and Little Saigon. The Chinatown International District hosts some of the most loved Seattle festivals, including the Annual Night Market, Moon Festival, and Lunar New Year Festival. 
The neighborhood is a short walk from both T-Mobile Park and Lumen Field. Long-standing businesses offer residents and visitors everything they need within walking distance. C-ID is also home to the Seattle Pinball and Wing Luke Museums. 
Belltown
Belltown is beautifully located on the waterfront and conveniently close to Downtown Seattle. The beloved neighborhood is consistently ranked as one of the most walkable areas of Seattle and boasts an extensive music and arts scene. Most real estate along the waterfront comes in the form of high-rises with apartments and condos and is one of the more densely populated areas of the city.
Belltown is known for both Olympic Sculpture Park and Myrtle Edwards Park. Residents and visitors can also explore the Elliot Bay Trail. The neighborhood is also home to many bars, restaurants, and coffee shops. The community is named for an Illinois farmer, William Nathaniel Bell, who moved west in 1851. Stroll along Virginia or Olive Street, both named for William Bell's daughters,
South Lake Union 
South Lake Union is home to one of the most iconic destinations in Seattle, Pike Place Market, but it has infinitely more to offer both residents and visitors alike. Located on the southern tip of Lake Union, this popular neighborhood is sometimes called SLU. 
South Lake Union's proximity to the water makes it ideal for paddle boarding, kayaking, and boating. SLU is also Seattle's tech center-- Amazon, Facebook, and Google all call South Lake Union home. The neighborhood was once a highly industrial area but has been transformed into a destination for drinking, outdoor activities, and culture. You'll also find the only downtown Whole Food, a welcome amenity for any resident. 
Ballard 
Ballard, once its own independent city, is located in the northwestern part of Seattle. The neighborhood's Scandinavian history colors much of the current culture. Visitors can explore the National Nordic Museum and the Ballard Locks, which connect Union Lake and the Puget Sound. 
Real estate Ballad includes something at every price point and is not nearly as expensive as neighborhoods like Queen Anne. You'll find Craftsman, Tudor, and rambler-style homes in addition to newly-constructed condos and luxury apartments. Almost anyone would enjoy living in this walkable community thanks to its enchanting culture, many amenities, and location. 
Capitol Hill 
It's hard to find someone who doesn't enjoy the long-standing cultural charm of Capitol Hill. This Seattle neighborhood has become the epicenter of the city's LGBTQ+ community. Some might remember that the neighborhood was closely associated with the 90s grunge scene. In Capitol Hill, you'll find a mix of apartment complexes and large houses along 44th Ave, also called Millionaire's Row. 
Capitol Hill is easily the most progressive, creative, and popular area in Seattle, with extensive dining and nightlife opportunities. Don't miss the chance to stroll through the 44 acres of Volunteer Park. Just be sure to stop and admire the breathtaking glass, Victorian-style conservatory. With so much to offer, Capitol Hill rental properties are in high demand. 
Discover why Seattle homeowners love Belong 
Once you've found the perfect property in Seattle, Belong can help you find residents who love your home as much as you do. We take the guesswork out of pricing by combining current market data with live, real-time demand from the local rental market. That data allows you to maximize rental income and attract the best residents. You'll experience fewer vacancies, residents who care for your home, and profitable rental income. 
Jordan Newsom is a highly-caffeinated writer who loves delighting readers, using content to teach, and broadening perspectives. When she's not behind a computer screen, she's hunting down the best coffee shops, breweries, and restaurant patios in Denver, Colorado.