We Picked 8 of the Best Space-Saving Ideas From Pinterest
Written By
Adam on Feb 9, 2022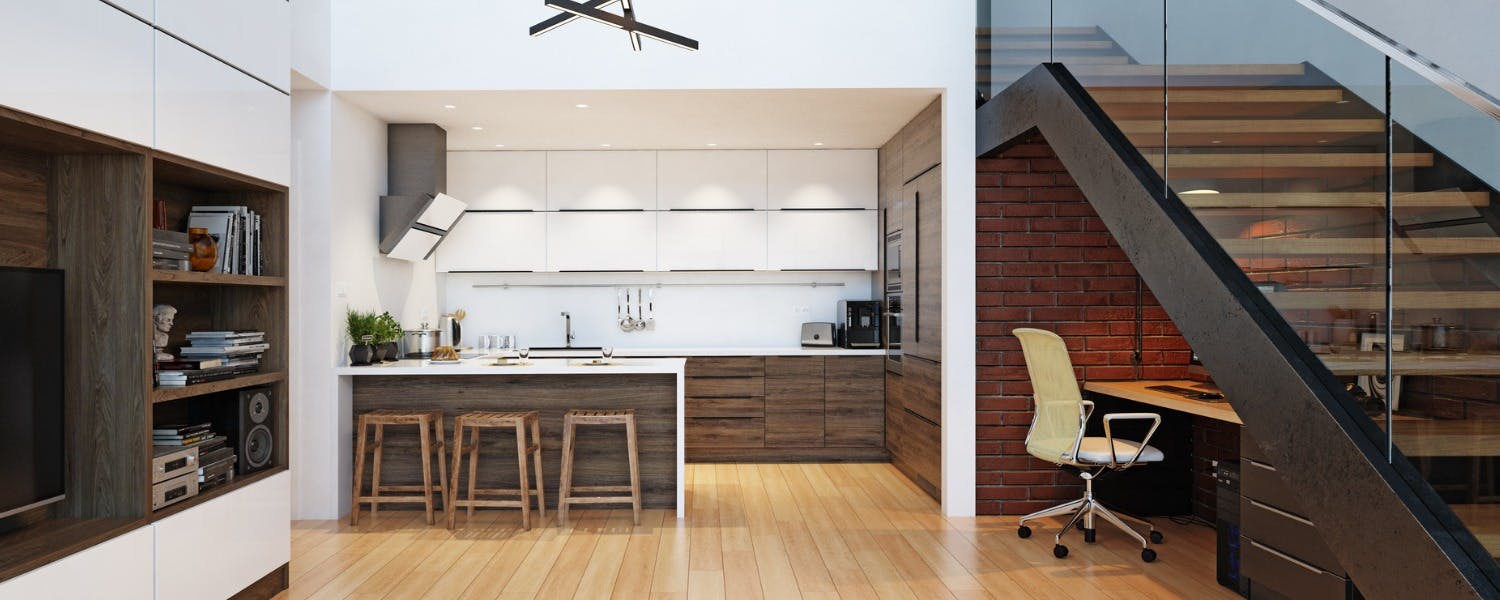 Everyone's looking for a little extra storage space. If you're managing your own property, these space-saving hacks do just that, and are guaranteed to make your home more desirable on the rental market. 
What does one of America's famous films and an $87.65 billion industry have in common? 
They are all related to the stuff we accumulate in our lives.
Citizen Kane starts with a series of shots that show the extent of Charles Foster Kane's estate; but even with 49,000 acres, Kane doesn't have enough room. The final shot shows a warehouse crammed with everything he can't display, the priceless paintings and statutes and historical relics – and of course, "Rosebud."
The related industry, you have probably gleaned by now, is self-storage. It's so enormous that more than 30,000 owners operate roughly 55,000 self-storage facilities nationwide,
It's a symptom of the modern condition: we have more things than space. Hence all the questions you'll get (if you're self-managing a rental property) about closet space, crawl spaces, attic spaces, and the like. 
Obviously, it's great if your home comes equipped with these kinds of auxiliary spaces. If they do, there's a lot that can be done to those spaces to make them useful to your potential residents. If your house is storage-lite, though, there are clever hacks to make the most of the space you do have.
A lofted bed is a classic space-creating technique

But the question is how can you make the most out of that newly freed space — and how can you aestheticize it, so it's not only useful but beautiful? The use of shoji in the example above is not only a visual delight, but creates a sense of aesthetic unity, matching the walls of the room, and also the blonde-colored floorboards. It looks organic, like the product of an architect's vision, rather than a way of getting around the fact that you don't have a walk-in closet. Also, the way the stairs leading up to the loft space also acts as a bedside table is kind of genius.
Stairwell Success

You don't need to be Harry Potter to make the most of the space underneath a stairwell. Not only did these people manage to fit a desk into that space (a perfect solution from all those newly office-less WFHomers out there), but they fully exploited all the available vertical space by adding those extra shelves. You can also turn that space into a built-in bookshelf.  Not only is it useful, but it's more aesthetically pleasing than a plain white wall.  In fact there is so much potential for stairwell transformations that it's arguably the best place to start when you're trying to add some extra storage space to your rental property. 
Kitchen Flex

 One place people always need more storage? The kitchen. Not only for food, but also for all the little cooking knick-knacks and doo-dads you buy thinking you're going to use them a thousand times, but then only end up using once or twice (like 90% of the Dutch ovens in existence). 
This simple hack – adding vertical partitions to your kitchen cabinets – not only allows your residents to store more stuff and make full use of the available space, but it also makes their stuff more accessible. And like all of the best storage hacks, it's so simple and elegant you'll be asking yourself why you never thought of doing that before. (For more great kitchen storage tricks check out the Apartment Therapy piece this Pinterest post was sourced from.)
Another trick to help your residents store things vertically? Magazine holders: not only are they cheap, but they're incredibly easy to install.  It's actually a trick used often on boats – a great source of inspiration when it comes to space-saving storage hacks.
Looking Up

Ah, the ceiling — the last frontier for space savers. It's a little more complicated to build storage devices into the ceiling, but it could make all the difference in the world. It's especially useful in garages and attics, spaces you're already using for storage, where aesthetics aren't necessarily at a premium. But there are ways to add ceiling – or ceiling adjacent – storage to any room in a way that's both highly functional and aesthetically pleasing. For example, at about the height where you'd find picture molding in a pre-war building you can place a row of shelves – perfect for your residents' books and knickknacks.
Wall-to-Wall Bathroom Storage

The bathroom presents a unique challenge to the storage hackers of the world; not only does it tend to be one of the smaller (if not the smallest) rooms in the house, but despite that distinction, it's one of the rooms that requires the largest amount of stuff – from towels to toothpaste to toilet paper to hairdryers – to be fully functional. That's why we love hacks like the one pictured above, in which baskets are cleverly attached to the wall in order to create extra storage space – in this case for towels.  Really though you can use this idea to store pretty much anything – extra rolls of toilet paper, pill cases, moisturizers, shampoo bottles, you name it!
The Attic of Our Lives

Of course you can let your residents just throw a bunch of stuff they never use into the attic, but it doesn't take much expertise or time to add some built-in shelving along the lines featured in the image above. It's the ideal place for out of season clothes!
Most of these ideas you can do on your own. But if you need to add a lot more storage — and you have to hire a contractor for the work — it's maybe time to think about joining Belong, the full-service property management company. Belong employs contractors and craftspeople full-time to work on the homes they manage. They're standing by to help you execute on all your home upgrades, storage renovations included. Not only that, but when you're home is ready for new residents Belong will  find them for you. They'll even help move them in. Curious to see if your home qualifies? Click here.
Adam Hanft
Editor in Chief
Adam is a futurist - co-author of "Dictionary of the Future" - brand strategist, public-company board member, former comedy-writer (but he hasn't stopped being vaguely amusing), and an investor in Belong.