Home Fitness Ideas Under $300 To Add Muscle To Your Rental Listing
Written By
Belong on Jan 10, 2022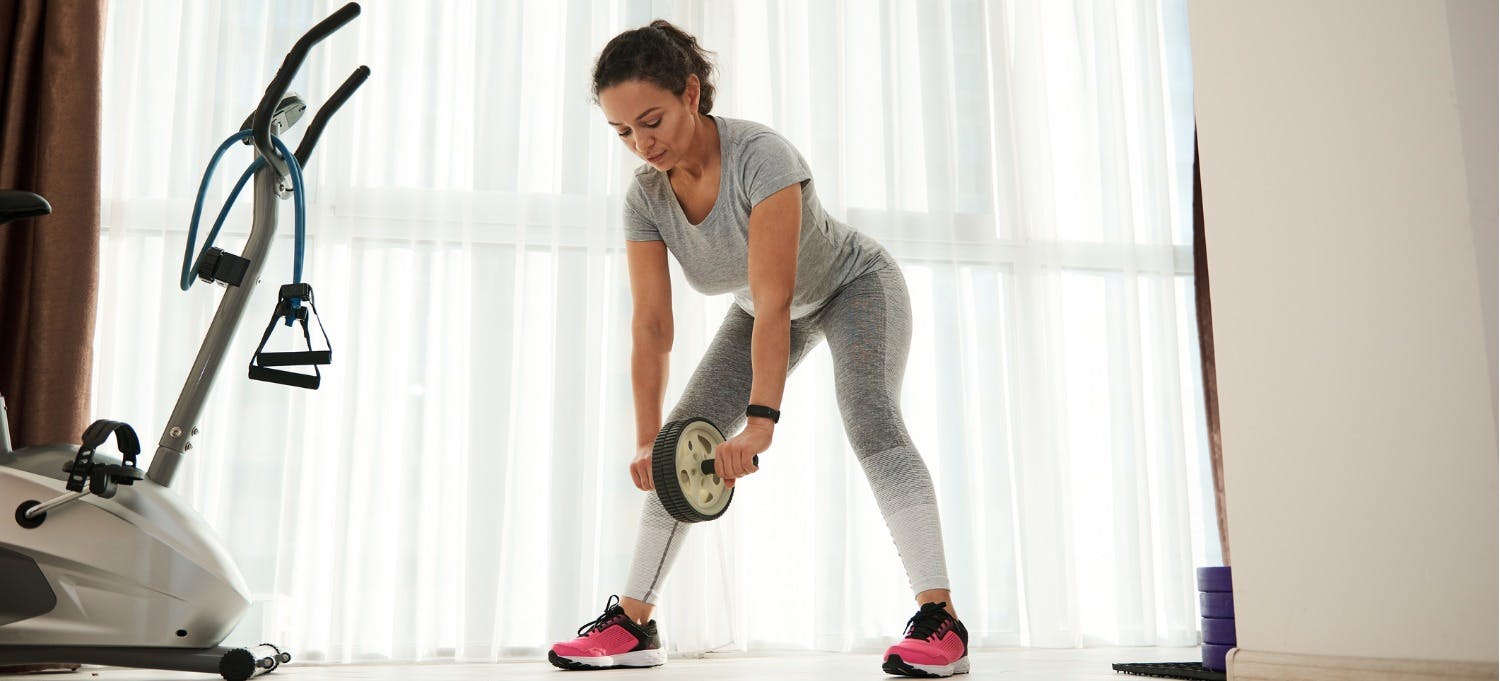 Make your home stand out and capture more rent – quickly and affordably – in our fitness-obsessed culture.
Few amenities are more attractive to potential renters than a gym. Given the health and wellness trends sweeping the country – and the reluctance many still have to exposing themselves to heavy-breathers at a gym – you can easily see how home fitness equipment can differentiate a property and give you the ability to charge more for it. Of course, some investments – like a $2,800 vertical climber – are simply not worth it.  
But there are many price-effective opportunities to add a fitness component to your home.  
The first question you may be asking, though, is where to put all this stuff? After all, most homes are not big enough to convert an entire room into a state-of-the-art fitness facility. Thankfully, there are some practical solutions that will surprise you with their ease and creativity.
Creating a home gym in a rental property
You don't need to remodel your rental to add a gym or home fitness space. This link to more than 30 inspired solutions from HGTV will spark your imagination. They range from the back of a door to a garage cubby to an attic or basement. Depending on the climate you live in, an outdoor gym can also be a great solution.
Once you figure out where you are going to locate the gym, the next step is to decide how to want to outfit it. For the smallest spaces, you might want to consider suspension training systems, which consist of a series of ropes and belts that are suspended from a single point. That can be a doorway, the wall above a window, or even a tree. They are affordable – many are under $75 and $150 will get you a premium model – and some come with an app, which you can offer to your tenants as well. Here's a link to the seven best, according to Healthline.
Affordable home fitness equipment for rentals with small spaces
If you have a small area within a larger room that you can screen off, it can be outfitted with a collection of workout equipment that will deliver a lot of bang for the buck. (Here are some tips we found on Pinterest for separating a gym from the rest of the room.)  This new "gym niche"   can include kettlebells; a balance trainer; slides or wheels that provide core stability and won't mess up your floors; and this sweet Core Max Ab Machine, which, ringing in at an affordable $109, is the most expensive of the lot (and that includes the "power assist rebound system").
Affordable home gyms to fit into rental homes
If you have the space to spare you might be surprised at how affordable some larger workout equipment can be. This space-saving, quiet-running treadmill is just $260. Needless to say, you can spend more, but people aren't expecting Equinox-level equipment in a rental place. This folding exercise bike is just $129. There are also folding treadmills available – here's a solid-looking one for $380 – so if you want to give your tenants the ability to turn their gym back into the living room, that flexibility is easily achievable.
We were also drawn to this compact rowing machine for $300, as well as this Weider Home Gym system – complete with a high and low pulley stations, a 4-foam padded leg developer, and an 80-pound weight stack that, when used with pulleys, can offer more than 200 pounds of total resistance.  (Forgive us for sounding like a commercial, but that value carries a lot of weight with us.)  Indeed, there is a lot of innovative workout equipment available – for example, for just $119 you can get a "Fusion Motion" portable gym tricked out with 8 accessories that include heavy resistance bands, an ab roller wheel, and more – enough for a full-body workout. 
If you think you're going to have tenants who need to take out their frustration somewhere, try this free-standing punching bag for just $209. If, on the other hand, you want to satisfy someone whose idea of fitness is to jump on a vibrating exercise machine, this nifty LifePro Vibration Plate Exercise Machine, which delivers a whole body workout through its vibration fitness platform – we're in! – is just $198. And, if you want to make your gym feel even more special, you can add this cute little retro-styled Frigidaire for just $195. The side bottle opener is a very cool touch, must say.
Of course, these home enhancements are not going to replicate what a gym can offer, but they are likely to be an unexpected surprise that makes a home special and easier to fall in love with – while saying something meaningful about you at the same time.
Add serious muscle to your rental returns with Belong
Like leotards and legwarmers, property management is so 80's. If you really want to strengthen your rental investment, consider ditching the suits and joining the industry disrupter, Belong. We'll take care of everything to get you the best possible return and residents for your home. Learn more at belonghome.com.