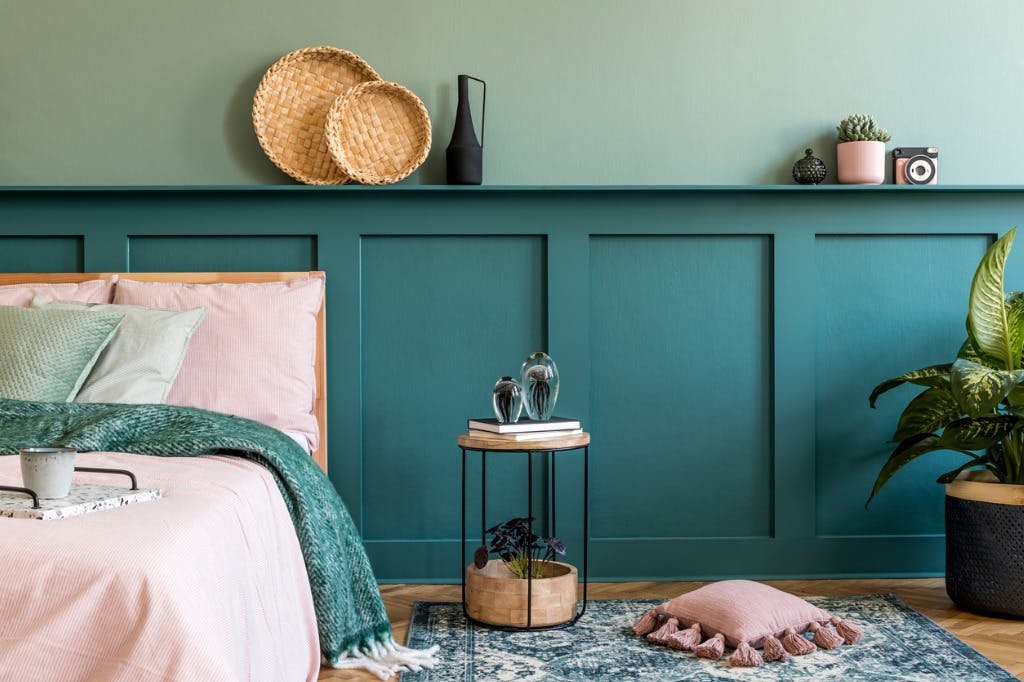 First impressions are everything, especially when it comes to homes. From your online images to the feeling someone gets when they walk through the door, here are seven ways to stage any room to give a sense of space and comfort.
Before anyone has even set foot in your home, it's going to be judged on how it looks. Great photos attract people to open homes, but this is where you want to really grab them with a sense of space and comfort so they can picture themselves living there. Just as curb appeal is important, so is the way you stage the rooms within your home. So whether you're looking to make a sale or want to stage your rental for knock-out marketing material that will reduce vacancy time between tenants, check out this guide for staging a room that will attract plenty of eyes.  
How to stage a room for real estate listings
1. Use a divider to give one room, two vibes 
It's easy to see why open floor plans are so in these days; they make a room feel light and spacious and big. But it's important to make sure that you don't lose a sense of coziness and intimacy by going too big. Consider using room dividers that can turn one room into two, each with its own aesthetic and purpose. A large staged living room can also act as a dining room when you use furniture to divide up the space. If the room has a unique architectural feature (for example, slanted ceiling or exposed brick walls), you can use them to help subdivide the space in an elegant and organic way. Another good way to reimagine a room: color-blocking with an accent wall or color-coordinated furniture.
2. Use mirrors to make your staged room feel larger
Reflective surfaces are a tried-and-true way to make a room seem more spacious. But there's more to it than slapping a piece of glass on the wall; mirrors of different styles, shapes, and sizes will impart their own unique aesthetic impact on your staged room. For instance, a gallery-style mirror wall will give your space an artsy flair, while placing one across from a window will emphasize a room's natural light and highlight outside scenery. Mirrored furniture – another trendy item – will disappear into the background of a room, expanding its visual footprint with a chic, modern flair.
3. Serene color schemes will make your room pop
White paint will help create the perfect blank canvas for your walls, but white's never just white. In fact there are many different tones and tints favored among architects and designers alike, from eggshell to oyster. With a strong, simple foundation, you have the freedom to use furniture that adds a contrasting hue or texture: Think a soft-green velvet couch or statement lighting fixture. Truly, the sky's the limit when it comes to staged living room color schemes. Consider your area and trendy color schemes when picking the right colors for your real estate. 
4. Use light to brighten your room and make it feel larger
The key to making a room feel spacious is light coming in from all angles. But beware, overhead lighting can be harsh and clinical – hospital-like, in the worst-case scenario. That's definitely not ideal for a staged room meant to sell your real estate!
Instead, use floor lamps and position them so they fill the room from all corners – it's a guaranteed way to give your space cozier. One statement overhead lighting fixture, combined with table and floor lamps, will give you options to tweak the lighting scheme depending on the time of day and what the weather's like outside when you're hosting an open house. 
Pro Tip: The darker the room you're staging, the flashier the lamps should be – a darker room benefits from bright, metallic materials, while a light one has a bit more wiggle room.
5. Use the height of the ceilings to your advantage
As soon as furniture starts to bump up against its boundaries, like walls and ceilings, the room starts to feel overcrowded. Keep tables, chairs, and centered and away from corners. Then, emphasize the height of your ceilings using tall statement pieces like a vintage lamp or vertical storage space, like this ladder storage shelf.
6. Choose reflective materials for staging furniture
When it comes to vertical surfaces, less is more. A chic glass coffee table or Lucite bar cart can serve as both storage and statement design pieces, but because of the transparency and lightness of the material, they'll always blend aesthetically with the rest of the room. Your residents will keep their focus on the features that make your home unique, while still having a place to set down a cup of tea or store a bottle of wine.
7. Cleanliness goes a long way
In addition to staging your home to look stylish and spacious, no one is going to feel any desire for a place that feels or looks dirty. Replace used furnishings with clean staged furniture, deep clean the floors and windows, and add a few accessories that balance the cleanliness with a cozy, lived-in vibe. 
Leave the home staging to the experts
Staging is critical to maximizing the potential of your real estate listing. When listing your house or holding an open house, a clean, staged room with top-notch furniture and decor will go a long way in getting your property the best possible price, sale or rental. 
When you work with Belong, you'll have access to experts that can help with the entire home staging process, from assembling furniture to home repairs. Belong will even show off your spotless, staged interiors with a virtual open home and 3D tour included.
Belong is simplifying the rental experience and helping more homeowners reach their financial goals through real estate. Visit our homeowner's page to find out more about how our services are helping people to ditch property management in Seattle, Redmond, Oakland, San Francisco, San Diego, Los Angeles, Tampa, Orlando, Jacksonville, Miami and many more.
Lucas attended Yale University before becoming a journalist and working with brands to tell their story.