Renovation and Remodeling
What is the Average Cost of a Kitchen Remodel?
Written By
Belong on Nov 3, 2022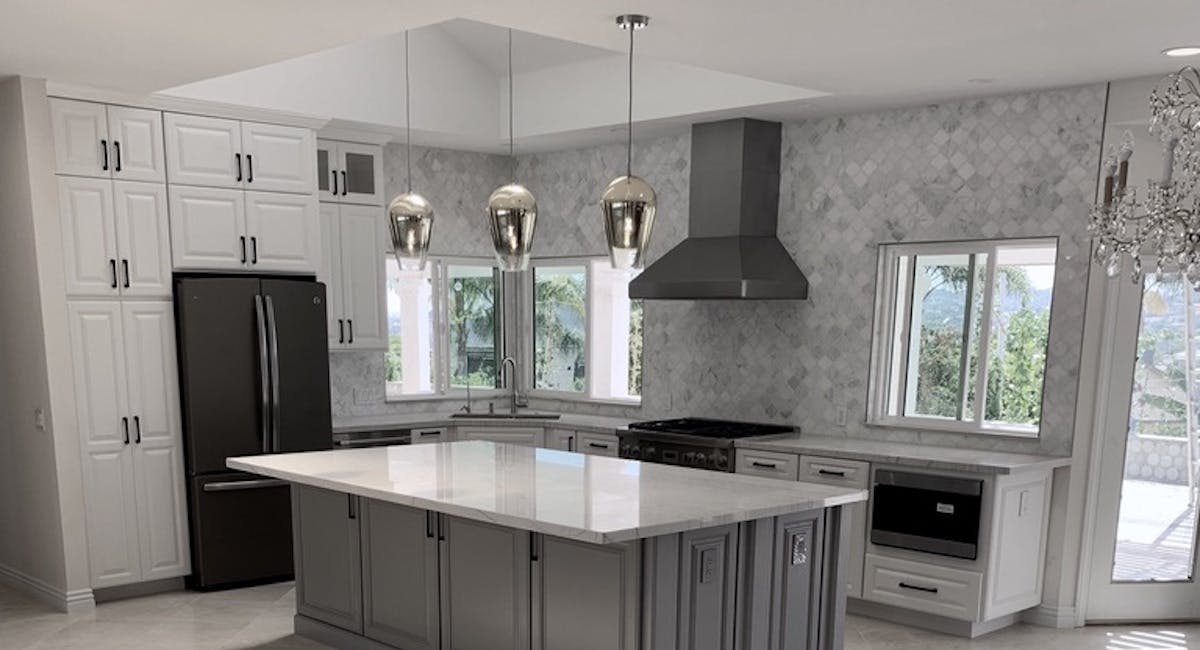 The kitchen is the heart and hub of any home. Owning or renting, coupled up or with a big family, even single and having friends over — it's the one place where people gather every day. As one of the spaces you need to use the most, they also wear and date fast. 
An old kitchen with outdated appliances is a big turnoff for homeowners and renters alike, which is why it's an important place to start when considering projects that will add both short and long-term value to the home. 
Whether you're looking to remodel your own kitchen or planning to upgrade the investment in your rental home, this guide looks at the average costs of a kitchen remodel and how to plan for one. 
Dreaming of a kitchen remodel? Let us know so we can give you personalized advice and an accurate, competitive quote with trusted and licensed professionals. 
What should I budget for a kitchen remodel?
The National Kitchen and Bath Association says the industry standard for a kitchen remodel budget is around 10% of the value of your home. 
By this standard, if your home is worth $500,000, you should be comfortable with spending up to $50,000 to remodel your kitchen. However, with home prices skyrocketing in recent years, this figure may not be quite as straightforward. If your home is worth $1.3million dollars, do you need to budget $130,000 for the kitchen renovation? You certainly can, but depending on what you want to do and the finishes you choose, you may get away with spending half of that. 
Some considerations include:
The age and condition of the existing kitchen
The age and condition of the appliances
Do you need a major remodel or will a minor remodel suffice to modernize the space?
Does the space need to be reconfigured or expanded?
Do any walls need to be removed? 
The return on investment you expect when you sell the home — whether that is in the near future or in years to come
The type of finishes you choose for your home will also impact how much you need to budget for a kitchen remodel. You might be able to save money with mid-range finishes and off-the-shelf cabinetry that will suit your remodeling needs. If you live in an area with high-end homes that attract a luxury price tag, investing in higher end finishes or custom work may be a sound investment because potential buyers will expect more for their money. 
To get a better picture of what people are spending on kitchen remodeling, we have pulled together some average costs across the country. 
What is the average cost of a kitchen remodel?
In its annual Cost vs Value report for 2022, Remodeling Magazine lists the following average costs for a kitchen remodel. 
National average cost of a kitchen remodel:
Minor Kitchen Remodel (mid-range): $28,279
Major Kitchen Remodel (mid-range): $80,809
Major Kitchen Remodel (upscale): $158,015
Where your home is located will also have an impact on price. The costs of labor and materials will vary depending on where you live, with homes in California and Washington state costing around 10 - 15% more to remodel than homes in Florida. 
Average cost of a kitchen remodel in Pacific states such as California and Washington:
Minor Kitchen Remodel (mid-range): $31,413
Major Kitchen Remodel (mid-range): $88,229
Major Kitchen Remodel (upscale): $171,150
Average cost of a kitchen remodel in South Atlantic states such as Florida:
Minor Kitchen Remodel (mid-range): $26,921
Major Kitchen Remodel (mid-range): $77,770
Major Kitchen Remodel (upscale): $152,672
HomeGuide lists the national average spent on kitchen remodeling at $100 – $250 per square foot, with a range of approximately $12,800 - $21,200 spent in total. Because of the huge variation in types of kitchen remodels — not to mention rising inflation and stock shortages spiking prices — this doesn't give a full picture of what people might be spending in 2022. 
Going back to the Remodeling Magazine figures, a reasonable budget for a minor kitchen remodel with mid-range finishes is around $30,000, whereas a major kitchen remodel should be around $70,000 - $90,000. If you're looking for a more upscale kitchen, you should be prepared to spend upwards of $150,000 for a major renovation. 
Of course, the only way to truly know what you're in for cost-wise is to speak to qualified professionals for a quote. To get someone in your home to provide an accurate estimate, get in touch with Belong Construction and Pro Services. 
Budgeting for a kitchen remodel buffer
It's also important to have a buffer in your budget. Especially in this era of wild inflation, a tight labor market and global stock shortages, prepare that you will need to spend more than you may have planned. Once you've set what you want to spend, you should plan to keep around 10-20% of that aside for unexpected expenses. If you suddenly find out that your dream backsplash went up by $5 sq/ft or that wall you wanted knocked down is load-bearing, having a buffer will take the stress out of the unexpected. 
What is the most expensive part of a kitchen remodel?
When planning a kitchen remodel, there are four factors that will heavily influence the cost of your renovation:
1. Kitchen cabinets 
Kitchen cabinetry makes up a large portion of your kitchen, as well as your kitchen remodel costs. Prepare for cabinetry to take up 20 - 40% of your budget. Obviously if you need custom-designed cabinets to fit your kitchen, this will be on the higher end than if you select a flat-pack, ready to assemble option. If your kitchen cabinets are in good condition, you may be able to save money by having them refinished. Consider how long you need them to last and what buyers and residents in the area would expect to see when it comes to getting a return on your investment. 
2. Labor costs
Installation and on-site labor will take around 20% of your remodeling budget. Depending on how much you're changing the kitchen will impact how many contractors you will need on site. Changing the layout to create an open plan concept for example may require a designer, structural engineer, electrician and plumber to reconfigure the home. 
There is also a major contractor shortage in the US that is seeing homeowners pay a premium on the average price from years past. Belong's solution to this problem is unique, in that we don't use third-party contractors but full-time employees for our Construction and Pro Services. With licensed, bonded and insured experts on the team, we always have the right people for the job. You don't even need to have your rental home listed on Belong to take advantage of our construction service. Learn more here.
3. Appliances
When replacing the appliances in your home, the costs can really vary. There are plenty of budget options for refrigerators and ovens, but if you want something with real wow-factor that is going to last for years to come — it could eat up to 15% of your kitchen remodel costs. 
High-end appliances and large stoves make cooking and entertaining a dream, which is why they're incredibly popular with homeowners and renters. If you're looking to reign in the budget, consider splashing out on a key item that will elevate the whole kitchen (such as a great stovetop) and saving money on items like the microwave. 
Pro Tip: Energy-efficient appliances may be eligible for new climate tax credits and rebates. Learn more here. 
4. Countertops and backsplashes
Countertops and backsplash prices have a huge variance in price, depending on the materials you choose. Be sure to consider your kitchen needs and climate before choosing your options too — as the wrong choice could lead to higher maintenance costs. For example, Corian and Acrylic are not very moisture-resistant, so they're not a great choice for humid climates. Concrete and wood countertops offer a unique look, however both are susceptible to cracks over time. 
Angi lists the following national average costs for countertops:
Laminate: $8 - $27 sq/ft
Travertine: $11 - $35 sq/ft
Wood: $18 - $38 sq/ft
Quartz: $15 - $75 sq/ft
Acrylic/Corian: $20 - $75 sq/ft
Stainless steel: $60 - $100 sq/ft
Granite slab: $15 - $140 sq/ft
Marble: $15 - $190 sq/ft 
The materials selected will also shift the installation cost. A large slab of marble could set you back up to $3,000 for installation due to the size, weight, and cutting to size. 
Should you remodel the kitchen in a rental home? 
Would you be excited to inspect a home if you saw an online listing with photos of a small, dark kitchen with aging appliances?
When renting, you don't get a lot of say in how your kitchen looks. Many people will make do with whatever is in the home, but to attract a higher price and long-term residents that want to treat your home as their own, a great kitchen tops every wish list. 
A kitchen remodel can make your rental home unmissable at inspection time, keeping your vacancy rates low and rental income profitable. To get help designing a rental property kitchen remodel with a good return on investment in mind, speak to our expert team. 
Let's get to work on your kitchen remodel
Belong's in-house Construction and Pro Services are open to homeowners and construction projects of all shapes and sizes, regardless of whether you are a current member of our residential network.