Can You Rent Out a Guest House On Your Property?
Written By
Belong on Jun 5, 2022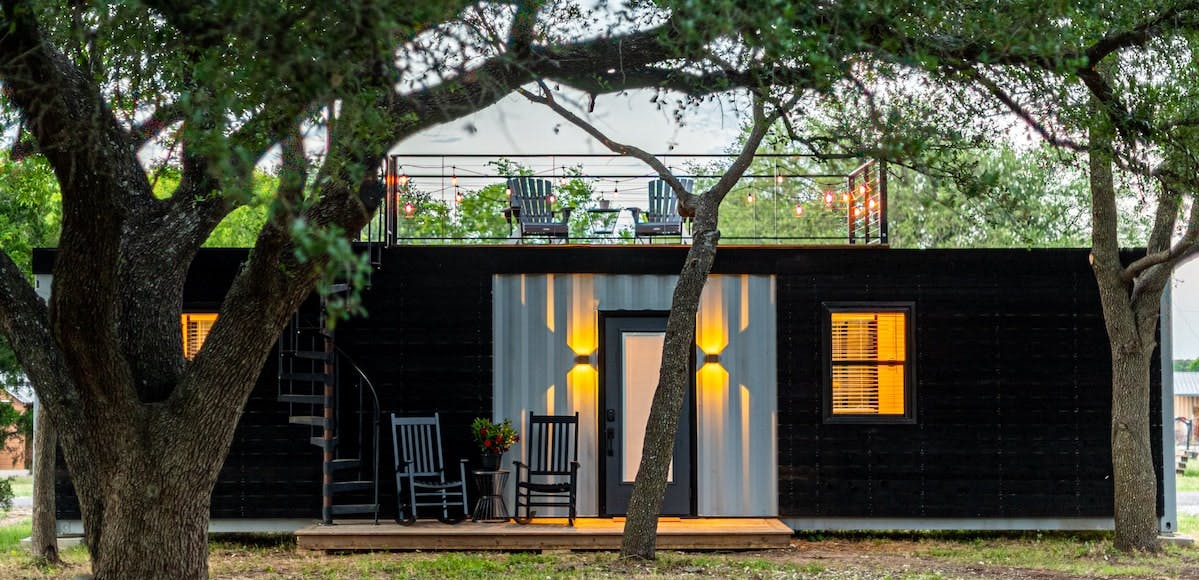 More often referred to as Accessory Dwelling Units (or ADUs), guest houses are typically separate, additional living spaces to someone's primary residence. They can be attached to the main home, be a separate structure, or be located above a garage. You might also call guest houses granny flats or carriage houses. Guest houses can provide a passive income opportunity to property owners, but those interested in renting an ADU on their property should consider some key factors. 
Listing your guest house or ADU as a short term rental 
While listing a guest house for short-term rentals is possible, doing so comes with challenges. Most cities and municipalities require a specific license for short-term rentals. Additionally, short-term rental marketplaces are changing their guidelines to attract and favor guests. Short-term rentals require more maintenance, including regular cleaning, management, and marketing.  
Can your guest home become a long term rental?
To determine if you can rent a guest house or ADU to long-term tenants, you'll need to learn more about city and county regulations. Your property or neighborhood will likely need to have the appropriate zoning designations. 
To find the zoning restrictions on your local neighborhood, start by searching for your city or county zoning ordinances to find out the allowed uses for your property (for example, San Diego Planning & Development website if your home is in the SD area). You could also call your municipal planning or building department to help them explain how the laws work in your area and get an official opinion on your specific property. 
Similarly, the HOA or homeowner association may prohibit or have specific guidelines around rental properties and ADUs. If the HOA does permit you to rent your guest house, they may request that your lease include particular terms. For example, the HOA may require that you have specific parking guidelines for tenants. 
Finally, it may be helpful to verify any other fire or safety restrictions. You may find that there are requirements for egress windows, sprinkler systems, or learn that a guest house must be within a certain distance of a fire hydrant. Even if a former owner of the property rented out the guest house previously, that doesn't automatically mean it's still up to code today. 
Mortgage requirements
If you plan to purchase a home with a guesthouse or ADU, you should discuss your options with a lender. Conventional, FHA, and VA loans each have requirements for buying a home to rent some or all of the property to tenants. For example, an FHA loan requires that the owner lives on the property if they are planning to rent a guesthouse or ADU.  
Considerations for renting a guest house on your property
Privacy and access 
The location of your guesthouse on your property may influence how you choose to prepare your property for tenants. The space must be easily accessible from the street or parking areas. If there is no clearly defined path to your guesthouse, you may need to add one. You may also want to consider lighting. Is there adequate lighting along pathways, near garages, and entryways?
You may also want to consider ways to create clearly defined boundaries or spaces. Landscaping can help make clear, separate outdoor spaces. Hedges, trees, and paths can also help preserve your privacy and comfort.  
Parking 
Tenant parking will be an essential consideration in renting a guest house on your property. If there are garages or driveways, you'll need to decide how you plan to manage parking. Offering off-street parking to tenants can be an excellent way to stand out from other rental options on the market or allow you to increase rental income. 
Utilities 
If you are renting your guest house for the first time, you may need to change your utilities. We recommend researching other rentals in your area to determine if it's advantageous to require tenants to pay for their utilities or if those costs are included in the rental fee and agreement.
For most rentals, it's better to separate your utility services. You'll need to contact each utility provider to see if this is possible. Dividing your utilities may require adding a meter, which often incurs an expense. 
Storage 
If you plan to rent the guest house on your property, you'll need to ensure that you and any tenants have adequate storage. In some markets, storage can be an essential factor for potential tenants. While interior storage is always appreciated, you may need to consider where your tenants will store bikes, outdoor equipment, or other recreational items. 
Managing a guest house on your property
Who will manage the guest house on your property if you choose to rent it? Making this decision may be one of the most important determinations you make, and there are several important factors to consider in making this decision.
Maintaining a guest house 
Your tenant will likely have maintenance requests throughout their rental term, so you can expect that renting a guesthouse on your property will require additional maintenance. Do you intend to complete the maintenance yourself, or do you have trusted contractors who can assist? It's important to understand that a certain amount of wear and tear will occur if you rent your guesthouse. 
You may also wish to assess the current condition of your guest house. Is it likely to need repairs in the future? Are the appliances relatively new, or will they need to be replaced soon? You should also evaluate water heaters, heating, and cooling systems. 
Finally, consider how you will manage the maintenance of the property grounds. Who will be responsible for lawn care and maintenance? 
Proximity to tenants
Choosing to rent a guest house on your property comes with many upsides, including additional rental income. However, you may find that it is challenging to have close proximity to your tenants. You will likely see your tenants more frequently, which may be difficult for some homeowners. 
There will be times when you need to address concerns with your tenants. It's essential that you set clear expectations with them and approach any potential conflicts or concerns with extreme care. This dynamic may not be suitable for everyone.  
Setting and including expectations in the lease 
The best way to avoid any potential conflict or misunderstanding with tenants is to set clear expectations and ensure that they are all included in your lease agreement. Carefully consider which policies might be most important, have them in your lease, and discuss them with prospective tenants. 
Typical areas of concern might include guests, parking, and quiet enjoyment guidelines. Consider working with an attorney specializing in lease agreements if you have not already. Often, they can help guide you to avoid any potential challenges. 
Managing conflict and lease violations 
If conflict or lease violations occur, it's critical to address them promptly. More often than not, these issues result from a misunderstanding or lack of information. You can resolve most concerns calmly and respectfully. 
If the prospect of conflict with your tenant is a concern, you should consider working with a property manager or with a modern alternative like Belong. Both a property manager and Belong can advocate on your behalf and resolve any issues with tenants. Some property managers will offer eviction protection, although be sure to read the fine print as this is often charged at a higher rate and only includes a small amount of coverage. If you choose to work with Belong and we select tenants that don't work out, you are covered for evictions with $15,000 coverages toward legal costs - more than 3x what property management companies offer (if any!).
Property management for your guest house 
If you plan to rent your guest house, a property manager can offer you significant benefits beyond managing potential misunderstandings or conflicts. Consider how extra support can make renting your guesthouse easier, efficient, and more profitable. At Belong, we believe that renting your guesthouse should be enjoyable. 
As Belong isn't a property management company, but rather a residential network, we take all of the stress out of having tenants (or as we say, residents) living in a guesthouse on the same property. Both you and your residents will have access to a 24/7 concierge service if any issues arise and maintenance requests are handled efficiently by vetted in-house professionals (no hanging around for third-party contractors).
Maximize rental price and guaranteed rent
Once you choose to work with Belong, you can start receiving rental income almost immediately. We work with homeowners who have both current residents and vacancies. To maximize your rental income, we'll conduct and share the results of a market pricing analysis.
We guarantee that you'll receive rent each month you work with us—even if you don't have a current tenant. We'll also give you your entire year of rent upfront. That means you'll have more rental income in your pocket sooner. 
Maintenance and repair management 
What if renting your guest house didn't require you to do any maintenance? Belong has a team of professionals who conduct a full, initial inspection report. You'll have a complete understanding of your guest house condition from the beginning. We'll continue to complete inspections every quarter, which means fewer surprises in the long run. 
Marketing and guest house showings 
When it comes to finding the best tenants for your guest house, we take pride in managing the process from beginning to end. If you don't already have a tenant, we'll take high-quality photos and create a 3-D virtual walkthrough. We'll use these photos for marketing your property to potential tenants. We'll also facilitate tours and showing for any interested, qualified tenants. 
Tenant screening 
We understand that finding a tenant and finding the best tenants are two different things. We offer comprehensive tenant screening to ensure you find the most qualified tenants for your guest house. 
Our tenant screening process includes:
Background checks
Credit checks
Income and employment verification
Reference checks
Personal interview with a Belong Resident Onboarding Specialist
Member service team
Our Member Service Team manages every aspect of your guest house rental. They will collect rent and schedule visits that you might require. There's no need for you to work directly with your tenant—Belong will handle everything along the way. It's the best way to rent your guest house without all the hassles and headaches of being a landlord. 
How to get started with Belong for your guest house or ADU
To explore if Belong is the right solution for your guest house, we invite you to see the calculations for yourself. You can use our tool to see how much potential your guest house or ADU has.