Normal Wear and Tear vs. Tenant Damage: How To Assess Your Rental Home
Written By
Melanie Kershaw
Last Updated May 15, 2023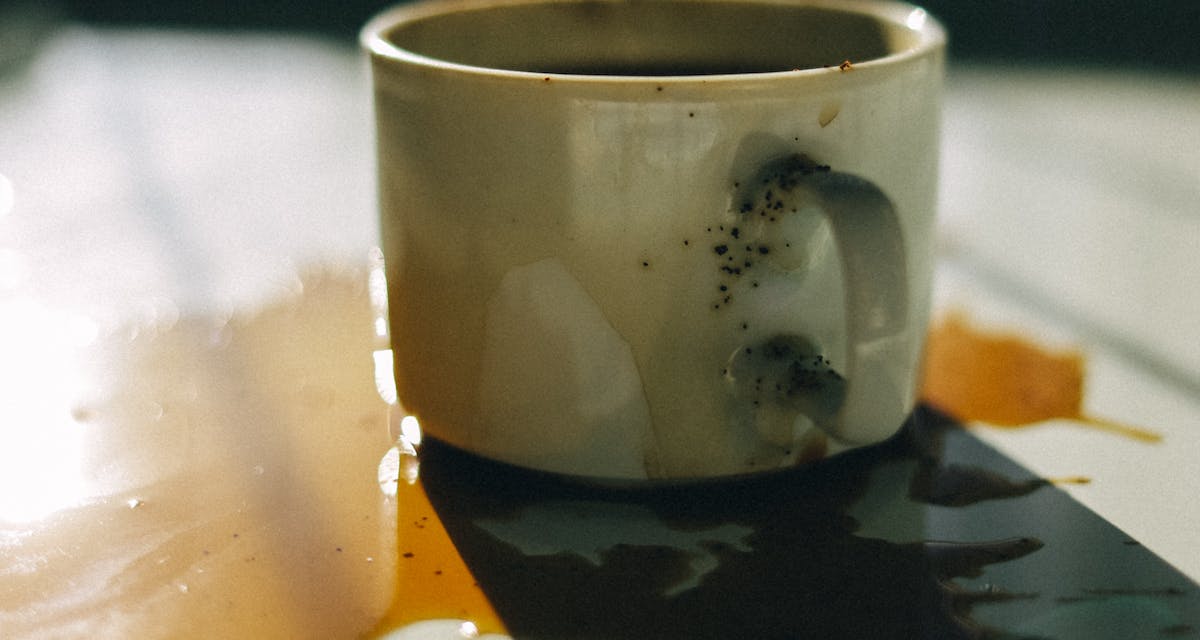 When a resident in your rental home vacates, you need to hone an essential skill: being able to decipher between regular wear and tear vs tenant damage. After a year or more, your house won't be in the exact same condition as when you put it on the rental market. But what can come out of a security deposit and what do you need to pay for?
It's time to play detective, only with less trench coats and more paint swatches.
Contents:
What is normal wear and tear on a rental property?
How to track wear and tear vs. damage in a rental home
Does homeowners insurance cover accidental damage in a rental home?
What is normal wear and tear on a rental property?
Like a favorite pair of shoes, some things deteriorate with regular use. Your home is no different. Wear and tear describes what you would expect from regular use of a home. It doesn't mean your residents didn't show enough care, but there's a reason why the term "lived in" is often used to describe something that is showing its age. 
Here are some examples of where to play Sherlock Holmes to consider what could be wear and tear vs damage:
Walls
Faded paint, minor nicks, and a few scuffs or scratches are all part of normal wear and tear. Then again, perhaps your resident went a bit overboard sticking things to the walls and have left tears in the paint. Or remnants of a mini picasso can be seen from a two year old's efforts with the crayons. 
Wear and tear vs. tenant damage: Consider the property's age and what is reasonable to expect from how long your residents have been in place. If there's a few extra marks than before, this would be normal. If there's holes or large tears in the paint — or a piece of furniture has visibly scraped off some drywall, you should ask to have it repaired or deduct the costs from the security deposit. 
Unauthorized paint and wallpaper is another contentious issue. Be sure to let your residents know that they need to seek permission before making alterations to the walls. Otherwise you can reasonably ask for them to be restored to their original condition, minus some standard wear and tear.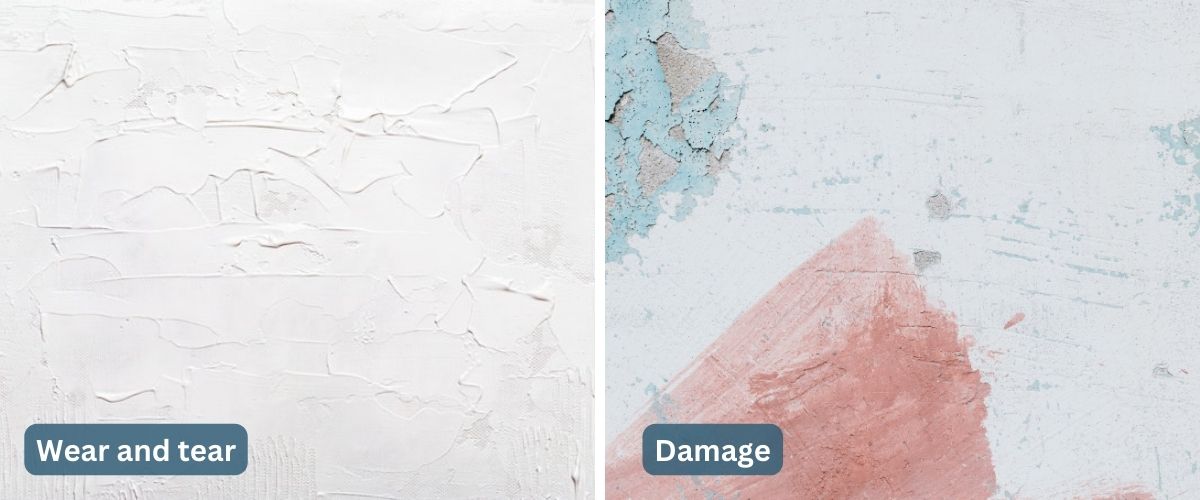 Carpet and flooring
Over time carpets lose their plushness, develop some snags, and bear the evidence of many accidental spills. Part of turning over a rental home involves having the carpets professionally cleaned, so waiting until this has been completed will show a true picture of whether carpet changes are due to general foot traffic or something else. Excessive stains or a suspiciously iron-shaped burn mark could indicate accidental damage.
Wear and tear vs. tenant damage:
You can't charge a resident for foot traffic and reasonable wear of carpet or flooring. If you find evidence of serious stains such as oil, paint or pet urine that would require additional costs from a professional carpet cleaner to remove, you can definitely ask for residents to cover this cost or withhold this cost from a security deposit. 
For wooden flooring, again scuff marks would be seen as acceptable as would any warping or changing from climate conditions. But if a pet dog has been digging for bones in your living room this would be considered damage.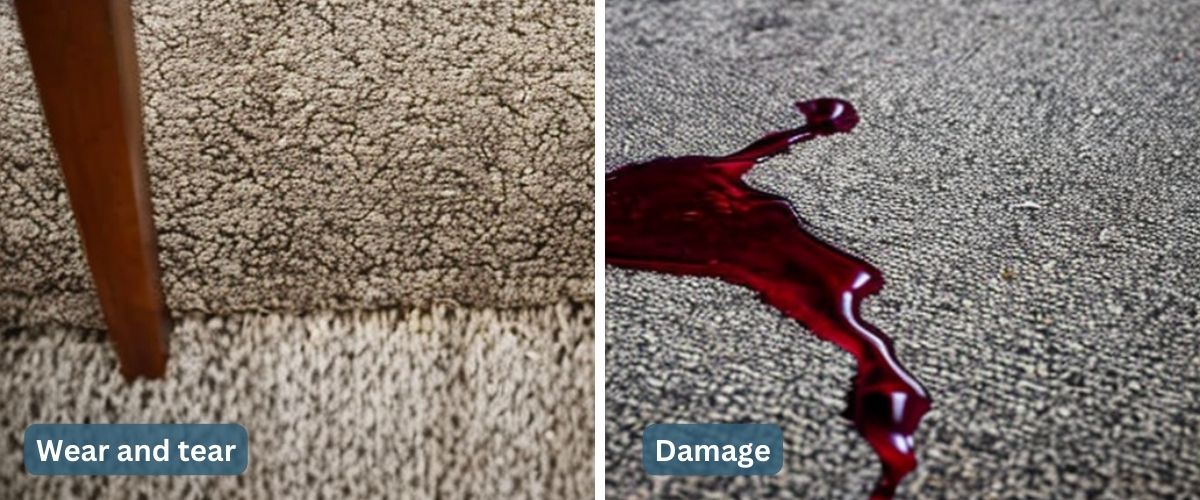 Windows and doors
The windows and frames are another thing that should be checked over. You can't rent out your home again with broken windows, so repairs will need to be made quickly. If it appears that a window has cracked due to settling foundations, you can't hold a resident responsible for damage. Rotted frames are another homeowner responsibility. 
Wear and tear vs. tenant damage: The occasional scratch, crack, or foggy seal is to be expected. Shattered glass from a friendly game of baseball is a definite sign of tenant damage. A pet cat using the patio door or window screens as a scratching post is another sign of damage that residents would be responsible for.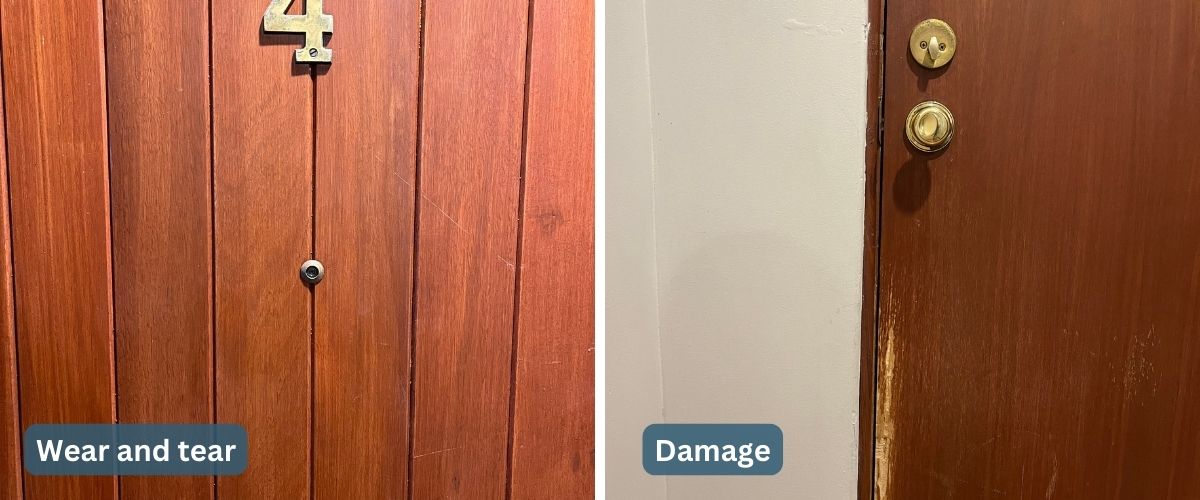 Bathrooms
Bathrooms can be a tricky one. It is your responsibility as the homeowner to ensure that essential facilities like plumbing, toilets and water heaters are well maintained and functioning. It should also be kept free of mold where possible. That means ensuring leaks don't go unchecked and that any damage or aging pipes are repaired without delay. 
Wear and tear vs. tenant damage: Leaky faucets, a running toilet, or a clogged sink? Normal wear and tear. But an overflowing toilet from playing "will it flush?" — that's deliberate misuse and you can charge for the plumber call out fee. 
The grout in tiles will also deteriorate over time and is considered wear and tear. But broken/smashed/missing tiles from excessive force is damage.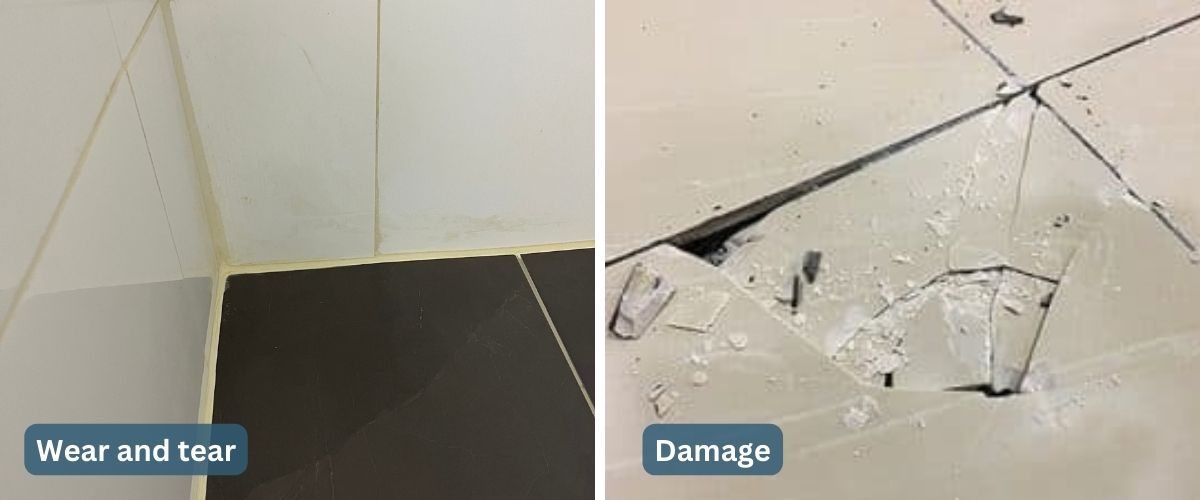 How to track wear and tear vs. damage in a rental home
There are two key ways to really determine wear and tear vs. damage in a rental home:
Take photos before and after each new resident moves in
Take notes and extra photos during routine inspections
Routine inspections of your rental home aren't about being 'Big Brother' and intruding on your residents. They're essential to protecting your investment, by keeping tabs on any wear and tear on the property. It's also an opportunity to connect with your residents to make sure they're happy and are sticking to the conditions of the lease agreement. 
During rental inspections, you (or a representative such as Belong or a property manager), should be looking for damage, but also for wear-and-tear on the property that has the potential to become an issue if left unattended. 
Ask residents if they have noticed anything different, take written notes and also photos. When the home is vacant, these notes and photos will make it easier to spot the extent of wear and tear and whether or not anything could be seen as damage. 
If your home is on Belong's residential network, we schedule home visits on your behalf to connect with the residents, assess if anything needs fixing, and ensure there are no lease violations occurring. Inspection reports and information can be delivered directly to your smartphone via the Belong app. 
If we identify any maintenance issues or damage, we can provide you with a quote from one of our Belong Pros to take care of the job and even let you split the costs of any unexpected repairs in easy installments over the term of the lease. 
Does homeowners insurance cover accidental damage in a rental home?
Short answer: no. Many homeowners are surprised to discover that their homeowners insurance policy doesn't actually cover them for anything once it's tenant-occupied! 
To be covered for damage while a resident that is renting your home, you need dedicated landlords insurance. All landlord policies vary, so you will need to speak to a provider regarding exactly what they cover. 
When you join the Belong network as a homeowner, you'll be required to have a landlords insurance policy, either through our network or a provider of your choice. This ensures you are protected as a homeowner, covering the cost to repair or replace damaged property, especially if your resident was not at fault. 
Learn more about the difference between homeowners vs landlords insurance here.
Ready to let someone else take on the load of managing your rental home?
Simple protection of your asset (and ensuring you don't have to play detective over scuffed wall paint!) is just one of the many ways Belong is making it easier than ever for individuals to achieve financial freedom with a rental home. 
To see if your home is eligible and learn about how Belong is helping more people have a successful rental property without lifting a finger, check out our dedicated homeowners page.
Mel Kershaw is a Content Lead at Belong. With an extensive background working with technology companies including Eventbrite and Yelp, she's always looking for ways to create educational and informative articles that simplifies tech and solves problems for her audience.