Renovation and Remodeling
6 of the Best Home Remodeling Projects for Adding Value Over Time
Written By
Belong on Sep 25, 2022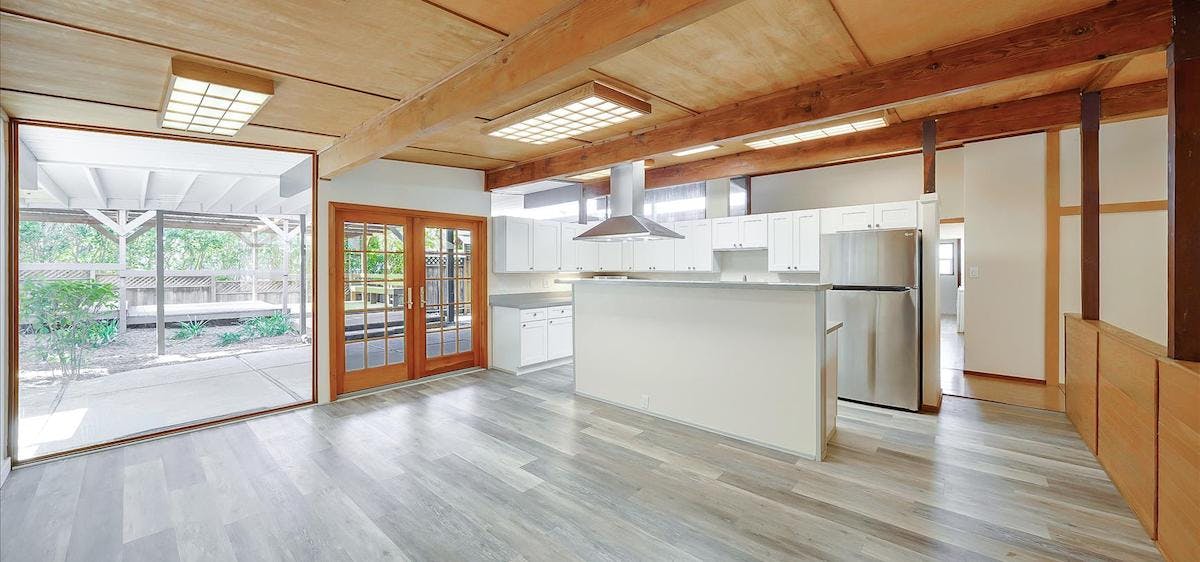 Home renovation and remodeling projects are often done right before a home is put on the market to increase resale value. But what about properties that you intend to hang on to? For a long-term investment property, vacation rental, or even the enjoyment of your own home, this article uncovers six of the best home renovation projects that will add value to your home today and for years to come.
1. Remodel or renovate the kitchen
As the adage goes, "kitchens sell homes". The reason kitchens are so important to anyone choosing a home — be it to buy or rent — is that this area is the heart and hub of the home. A central focus point and place where couples and families will gather every day. It's also one of the spaces you need to use the most and they can date fast. An old kitchen with outdated appliances is a big turnoff for residents, which is why it's an important place to start when considering projects that will add both short and long-term value to the home. 
If it's your own residence you're renovating, consider a major remodel to bring everything into the 21st century. An upgrade to luxury appliances can also see you get the most daily enjoyment of the kitchen space, while increasing the long-term value of the home. 
If this is an investment property or you intend to rent out your home one day, even a minor kitchen remodel can make your home immediately more attractive to potential residents. Fresh kitchens look stunning in marketing photos and impress during home tours. 
If your home is used as a vacation rental, remember that most families opt for a home rental over a hotel for the ease of having access to kitchen amenities while traveling and will be eyeing off these spaces in online listings. A new backsplash, updating the doors on the cabinetry and an appliance refresh are all ways to give kitchens modern appeal without breaking the bank. 
2. Remodel the bathroom
Think of the last time you browsed home listings for sale or rent. Is there anything more off putting than a dingy old bathroom? It doesn't matter how clean they are, old bathrooms make a home look tired and stale. Chances are potential buyers and renters won't even show up for a tour, so a refresh is a good way to add both immediate and long term value to any home. 
A bathroom remodel is said to increase a home's value by between 10-40%, depending on the types of finishes and if you're adding sought-after features such as a bathtub or extra toilet to the home. There's also the potential for cost savings on your water bill with low-flow toilets and showerheads. 
Livability is another consideration when it comes to bathrooms within rented homes. Bathrooms are susceptible to mold and mildew issues from lack of ventilation, hot water supply issues from aging heaters, leaky faucets and plumbing problems. In the long term, these could add up to high repair costs or even breach of your tenancy agreement due to the warranty of habitability in many states. A bathroom remodel could be a better financial investment than patch jobs over wear and tear. 
3. Create functional and appealing outdoor space
When considering how to refresh a home, don't neglect the outdoor space. Having a deck or patio for entertaining has always been appealing — but the pandemic also made it essential. With people spending more time at home than ever, the humble backyard, patio, or balcony has become a necessary place to unwind and even escape the home office. 
Outdoor spaces not only improve the livability and joy that you or your residents will get from the home, they can also attract a great return on investment long-term. Adding a deck for example, increases the living area of your home but the cost per square foot is considerably less than adding square footage to the primary building. 
The added value of a functional deck or yard doesn't extend to swimming pools. While an enjoyable addition for a family home in sunny locations like California and Florida, a pool won't add value to your home long-term. If you have a rental or vacation home, the upkeep and maintenance costs of installing a pool would likely cost you more than it's worth and may turn away potential buyers when it's time to sell. 
4. Increase the curb appeal with landscaping and exterior upgrades
Another great way to add value to your home immediately and long-term is to up the 'wow factor' on your curb appeal. A well-presented home will be eye catching in sales or rental marketing — and it feels good to arrive home to a beautiful space each day. 
Cost-effective and value-adding ideas include:
New landscape gardening or even just a pop of color with flowerbeds
Adding a new walkway
A fresh color or refinish the exterior of the home
A new front door in a vibrant color 
For some inspiration, see below for some inspiration from a recent renovation project in Burbank from the Belong Pros. Updating the front door, window color and the stucco on the exterior has given this home a stunningly modern transformation that will attract attention and value to the home for years to come. 

5. Improve energy efficiency
Poor insulation, drafty windows and old doors all contribute to uncomfortable homes and high energy costs. Investing in the energy efficiency of your home can add value immediately and reduce the cost to heat or cool your home.
Energy efficient fixes could be as simple as updating the windows and doors (which will also increase curb appeal and add a fresh look to the home) or the installation of modern heat pumps that can heat and cool homes efficiently. 
While energy efficiency may not add many zeros to the price of your home at sale — newer, efficient upgrades are more attractive to buyers and not replacing these items could decrease the value of the home by being outdated and expensive to operate. You may also be eligible for new tax credits and rebates in 2023, making energy efficiency a cost-effective renovation option. 
6. Give interiors a modern update 
You don't need to invest in big new additions or remodels to give your home a value-boosting refresh. Check out this simple but effective interior renovation from the Belong Pros on a home in Oakland. By replacing aging light fixtures, removing old curtains, giving the walls a fresh coat of paint and tidying up the floors, the home has a completely refreshed look.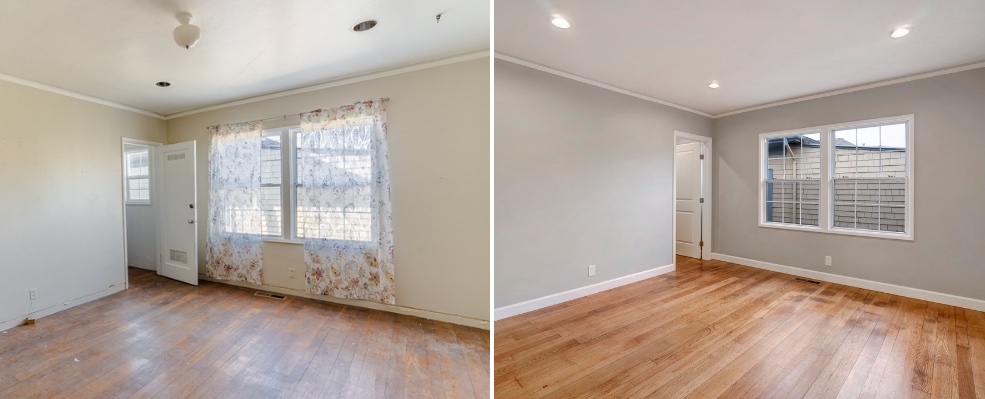 Get the right remodel for your home, guaranteed
Neighborhood knowledge and expert know-how are the best ways to ensure any residential construction projects you take on will add value to your home. What drives the most value for residents in California won't be the same as Seattle or Florida. To get personalized advice from a trusted Belong Pro, get in touch for a free consultation and quote at your home.