Reducing Fire Risks: 9 Tips for Landlords to Safeguard Rental Properties
Written By
Melanie Kershaw
Last Updated May 18, 2023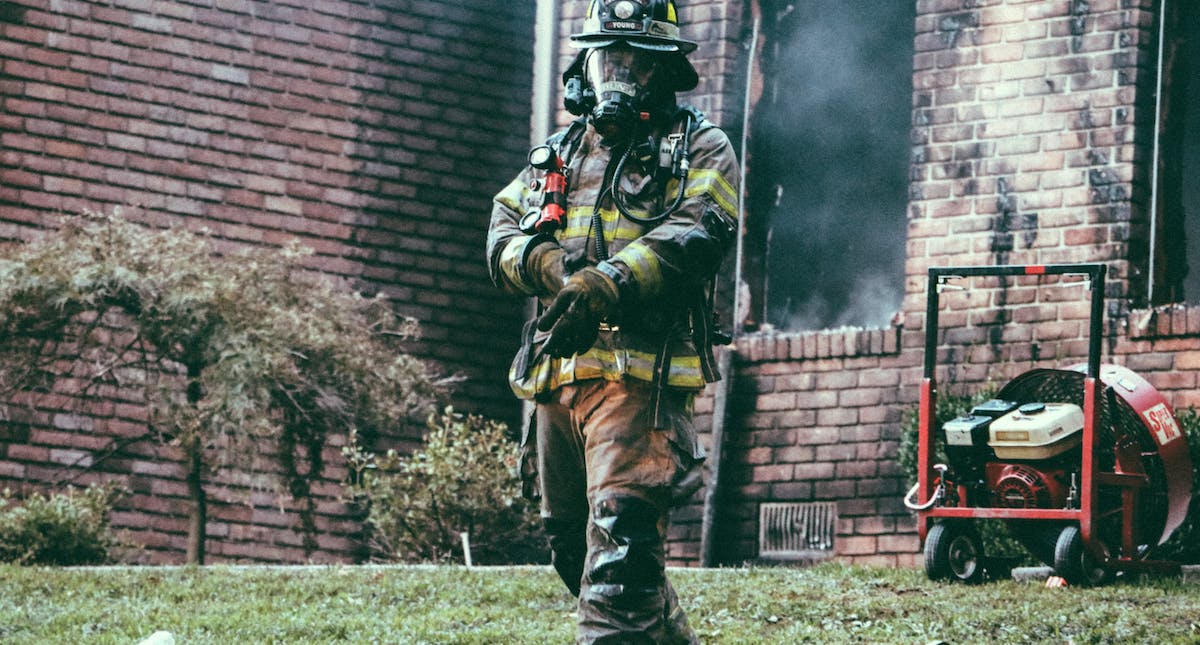 From raging wildfires to kitchen mishaps, fires are a real risk for all rental homes. If disaster strikes, where does that leave you as the homeowner?
All landlords need to ensure their rental home is in a liveable condition. After a fire, that could mean arranging for urgent repairs or ending the lease.
It's hard to prevent house fires, but you can reduce your risk by knowing how to handle the situation. In this article, we will answer common questions on fire damage in rental homes and provide vital fire safety tips for landlords:
What happens to a lease if a rental home is damaged by fire?
Does landlords insurance cover damage from fire?
Do I need to pay relocation costs for tenants if my rental property is damaged by fire?
9 tips for reducing fire risks in a rental home
Disclaimer: We don't enjoy using the word 'landlord'. We refer to members in our network as homeowners and residents, not landlords and tenants, since we're on a mission to upend and redefine the traditional landlord-tenant relationship. That said, this article is for people who are looking for answers with more common industry terms like 'landlords' and 'tenants', so in some instances we have had to stick to the old moniker for owners of rental homes. This article provides a guide for homeowners, but should not replace legal advice. Fires create emotional and unique situations, so speak to a professional about your exact situation in the event of a fire.
What happens to a lease if a rental home is damaged by fire?
After a fire, landlord responsibilities vary depending on the extent of the damage. Common issues include:
Structural damage
Roof destruction
Smoke and ash residue
Water damage from firefighting efforts
Damage to electrical systems
The nature of the damage also impacts your lease. Here is an overview of three common scenarios:
If you own a rental home that has minor damage from a fire:
Minor damage would be something that could be repaired reasonably quickly (1-3 months) and has not destroyed a significant amount of the property. 
Residents will still owe rent and either remain in place or move out temporarily while repairs are completed
You will need to arrange for repairs urgently
Depending on the situation, you may need to negotiate a rent pause or reduction while repairs are carried out
If the home becomes uninhabitable, residents may take steps to end the lease
If you own a rental home that has been partially damaged from a fire:
Partial damage from fire is not total destruction of the home, but would likely leave parts of the home not fit for use until repairs have been completed. Partial damage generally applies to damage that would take six months or less to remedy. 
Either party can end the lease with notice if the home is not in a habitable condition, even partially
Residents may opt to end the lease or request to move back in when the home has been restored to a livable condition
Rent will not be due from the time the home was deemed uninhabitable, until repairs have been completed
You will not owe any relocation costs for residents regardless of which option they choose
If you own a rental home that has been destroyed by fire:
Severe property damage or total loss of the home will end a lease immediately as the home will no longer be fit for use as a rental.
In the event of total destruction or unsafe structural conditions, the lease will be terminated
You will have approximately 21 days to return the security deposit and any rent that has been paid to you in advance
Check with your insurer about compensation for loss of both property and rental income
Does landlords insurance cover damage from fire?
Homeowners rely on insurance to cover losses on their homes. Homeowners insurance only covers owner-occupied homes, so you will need dedicated landlords insurance for any rented home.
Particularly if your house is on the West Coast where fires are a real and present danger, it's important to take out a policy that has the right coverage for both accidental fires and wildfire damage.
Depending on the policy you have, most landlords' insurance can provide compensation for:
Property repairs
Cleanup and removal of debris
Fire department charges
Damage to outdoor areas and gardens
Replacement of damaged belongings (yours, not the resident)
Loss of rental income
It's important to note that coverage generally applies to losses from accidental damage, such as a natural disaster. If it's found that the fire was lit by you or the resident, or if you failed to maintain the home's wiring and a fault caused the fire — restrictions and exclusions may apply. If you are at fault due to negligence, the insurance policy may still protect you from medical costs and legal fees if you are sued.
Residents need to have their own coverage to protect their belongings. This is why Belong insists that everyone in our network has insurance coverage for peace of mind and financial security.
Do I need to pay relocation costs for tenants if my rental property is damaged by fire?
This question often comes up after a fire because the residents will usually need to move out after a fire.
Most state laws, including Washington and California, stipulate that landlords are not required to pay relocation costs if their home is damaged by:
The tenant
A third party
As a result of a natural disaster
This means if your rental home is damaged by a wildfire, criminal arson, or the resident accidentally sets the kitchen alight — you won't need to front up costs to move the resident out while repairs are made.
Landlord negligence is another factor. Say for example your residents notified you of faulty wiring and you didn't have it fixed. If it sparks a fire, you could be liable. In a scenario like this, seek advice from a lawyer immediately. The resident may pursue legal action to recover damages and relocation costs.
It's also worth noting that some lease agreements have specific clauses on relocation costs, so check the fine print. If your lease agreement includes relocation or accommodation for natural disasters, residents will be able to ask you to cover these costs.
9 tips for reducing fire risks in a rental home
If your rental home is in a fire risk area where wildfires are a regular threat, you should take fire mitigation seriously. Budgeting for modern, risk-mitigating construction features such as fire-resistant roofs and siding, or fire-activated sprinkler systems could save you money in the long run and may even reduce your insurance premiums.
But fires can occur anywhere. The National Fire Protection Association says most home fires result from five causes: cooking, heating, electrical distribution and lighting equipment, intentional fire setting, and smoking materials.
To protect you, your rental home and residents from fire risk, all landlords should consider the following risk-reducing tips:
Take out a landlords' insurance policy with coverage for fire and natural disasters. Document details of your property and all owned fixtures and appliances to make any claims easier.


Ask residents to take out their own renters insurance policy to protect their belongings and cover them in the event of disaster.


Install smoke detectors and remind tenants to test and maintain them (you may also be able to track them with today's smart home devices).


Keep fire extinguishers and blankets in the kitchen of your rental home to protect residents and contain common and small blazes.


Provide residents with resources to inform and protect them (and your home) against fire at ready.gov. Some states such as Washington state need written notice of emergency plans under landlord-tenant law. You should also give written notice of any fire sprinkler or alarm systems installed along with an emergency notification and evacuation plan.


Encourage your residents to have their own wildfire evacuation plan and to take our renters insurance to protect their belongings.


Have a maintenance plan for your rental home that includes fire mitigation. That could mean checking the wiring, removing debris from the yard and minimizing flammable materials on site.


Include no-smoking policies in your lease agreement to reduce fire risk. If you have a property manager write your lease, make sure you're happy with any terms that apply to disasters, such as relocation policies, before signing.


Include policies around grilling in your lease agreement. You do have a right to ban it, but the friendlier option would be to restrict grilling in areas that create a fire hazard — such as too close to the home or on balconies. You may want to include gas safety instructions.
How Belong makes it easier to protect your rental home from damage and disaster
The US fire department responds to an estimated 343,100 home fires a year, causing billions of dollars in property damage! Yikes.
Your rental home is an important financial asset that is worth protecting. But finding the right policy can take a lot of work (not to mention the time-drain and paperwork of actually signing up). Like all outdated processes that are broken within the rental industry, Belong is taking this on to simplify how homeowners protect their rental home.
When you join Belong and have your home loved by us, you have the option to buy a dedicated landlord insurance policy that protects your home, meets our requirements — and could save you time and money. We can have you signed up and covered in an instant, it's all done within your Belong account. You can either pay the premium upfront, or have the option to split the payments into 12 installments. You'll receive your monthly guaranteed rent, minus the repayment — so you won't need to think about it again or set aside money for it in your household budget.
What's more, we also ensure your residents hold their own renters insurance policy and you can also finance regular home maintenance with Belong (even monthly subscriptions for upkeep), keeping your rental home free of damage and fire-causing hazards.
To find out if your home is eligible for the Belong network, visit our homeowners page.
Mel Kershaw is a Content Lead at Belong. With an extensive background working with technology companies including Eventbrite and Yelp, she's always looking for ways to create educational and informative articles that simplifies tech and solves problems for her audience.