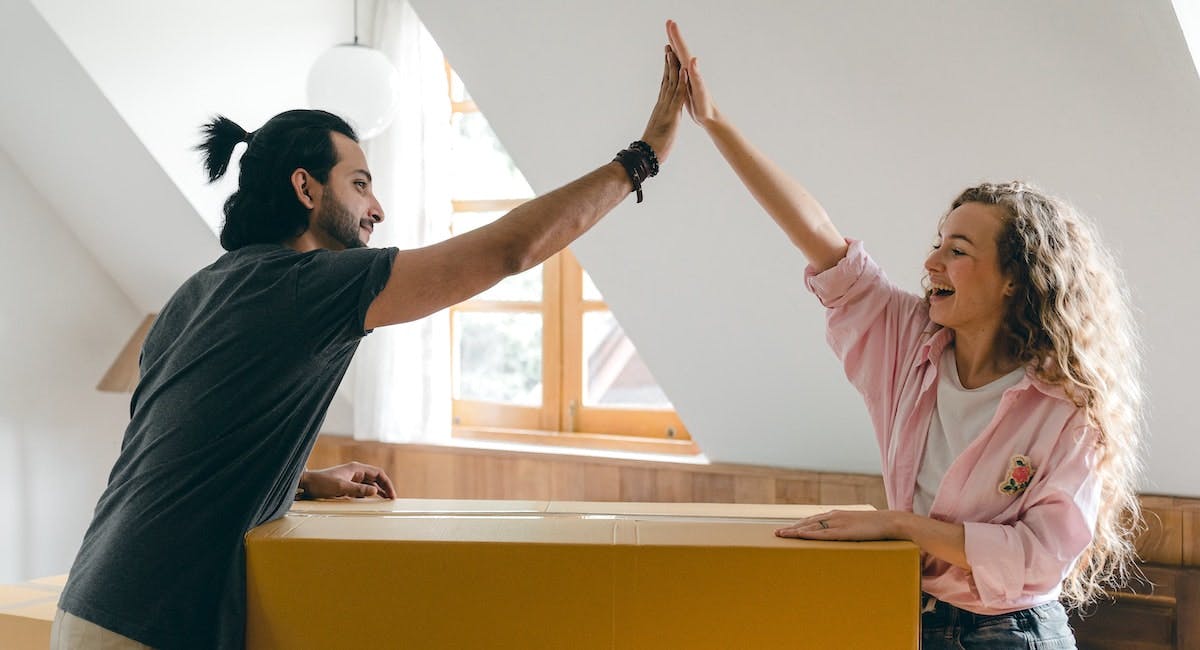 Belong has a very different vision for the US housing market than the one that currently exists. One where homes are in the hands of real people, not corporations. Helping homeowners to achieve their financial goals through real estate and to help those who rent to find a sense of belonging in the houses they call home. 
This is why we're focused on disrupting the way long-term renting works. 
For too long, both homeowners and their residents have been let down by property management companies. Renters are treated like second class citizens while the owners of rental homes are left frustrated by hidden fees and poor communication. It shouldn't have to be this way. 
There are so many far-reaching benefits for both homeowners and the wider community when you opt to rent out a home on a long term basis. Belong wants to bring back confidence to homeowners to choose this option. And make sure you can do it without having to lift a finger.  
In this article, we'll dive into some of the benefits of choosing a long-term rental structure for your home with Belong — and how it differs from short-term renting or even working with a property manager. 
9 reasons to rent your home long-term with Belong
You'll receive predictable, guaranteed rental income 
Get full control over your rental cash flow and never chase late rent ever again. Seriously. 
Belong is so confident in our resident qualification and placement programs, we guarantee rental income for every Belong homeowner, regardless of when we get paid. You receive predictable income at the same time every month without having to give it a second thought. You can even get a whole 12 months of rent upfront, giving you full control over your rental cash flow. 
This is peace of mind you can't get from a property management company or by trying to fill your home on a per-night basis. 
Learn more about Belong's Guaranteed Rent here.
You'll be providing a place for people to belong
Long-term rentals provide a critical service to the community — a place to call home. For an increasing number of Americans, home ownership is out of reach for them right now. Or they need to relocate temporarily for work. Or aren't ready to pull the trigger on a forever home. But everyone needs a place to live. 
Short-term vacation rentals take homes away from local residents. It's become such an issue in popular neighborhoods that 26 cities in North America have taken steps to restrict or even ban them entirely. These measures have become critical to supporting local populations. Choosing to rent your home to a local resident for 12 months supports this cause too, by providing stability without losing an opportunity to earn rental income. 
Your home will have more love, less vacancy 
Your rental home's profitability and cash flow relies on your home being occupied. With short-term rentals, a glut of inventory has sent vacancy rates soaring in 2023 (even during the Super Bowl!), leaving homeowners declaring an "airbnbust" with empty homes and declining profits.
If there are extended periods of time that your property sits vacant, you won't be generating revenue and face a higher-risk of trespassing or vandalism. 
Meanwhile there are people all over the country crying out for long-term homes to love as rents skyrocket and vacancy rates plummet. These people will stay for 12-months or more, providing stable income, caring for your home and reducing the time it sits empty. 
Belong homes receive an average of 29 qualified applications and enjoy 66% less vacancy than the average long-term rental. 
You can get help when you need it, not 9-5
Have you ever tried to get hold of a property manager after 6pm? Even emergency calls seem to get diverted to voicemail. But life doesn't begin and end during business hours. After hours is when residents are more likely to be home and report a problem. It's when homeowners finish their full-time job and have time to address issues at their rental home. 
This is why Belong offers a 24/7 concierge service to both homeowners and their residents. No more voicemails. No more waiting all weekend. No 9pm phone calls from residents. 
You can protect your budget from major expenses
Homes need upkeep and sometimes, that means major repairs or replacements for your rental home. These kinds of costs can destroy your personal household budget if you don't have the cash on hand. This is why Belong has created financial solutions to solve this dilemma for rental homeowners. 
By renting out your home long-term with Belong, we can spread the repayment cost of major repairs (even renovations!) over the life of your lease. You can access licensed tradespeople from our extensive network of over 10,000 vetted professionals, with guaranteed work. Then sit back and receive your monthly guaranteed rent, minus a repayment for the work done. This protects your rental cash flow and household budget. 
You can even minimize the need for repairs with 'set and forget' maintenance solutions. Through the Belong app, you can schedule regular home maintenance to keep things in top shape. 
You'll reduce your ongoing costs
Short-term rentals may command a premium, but they also need constant marketing, cleaning and upkeep. You'll also be footing the bill for ongoing utilities, wifi, and furnishing the home. These costs add up quickly. Short-term rentals are also higher risk, exposing you to risk of major damage and wild parties from poorly behaved guests. Short-term vacation rental insurance costs up to 70% more than standard policies and host platforms won't cover you for everything (or anything if the home is vacant!). 
If you opt for a long-term rental with a traditional property management company, your residents will take care of most utility and cleaning costs and you'll need to market the home less often. But you'll also find your bills riddled with hidden fees and charges for everything from setup fees and lease renewals to inspection fees and after hours calls. 
If you choose to have your home loved by Belong, you'll know exactly what to expect:
The better care you take of your residents, the more likely they are to make themselves at home and stay longer. Belong is proof of that, with 71% of Belong Residents renewing their 1-year lease.
You can kick back while earning passive income
Self-managing a rental is another option for homeowners — but it's not an easy path to passive income. Both long-term and short-term rental management is a hands on job. Between organizing lease agreements, vetting applications, inspections, regular maintenance and being on-call for support, rental management could be the second job you never asked for. Vacation rentals are even more demanding, with constant cleaning and high turnover. 
By outsourcing this work to professionals like Belong, who won't nickel and dime you at every opportunity, you can make your income passively and focus on what really matters to you and your family. You'll even be able to deduct the cost of Belong fees as a tax deductible expense. 
Read More: What Should I Know Before Renting Out My House For The First Time?
You'll have stability during times of economic uncertainty
Renting a house on the long term rental market provides more stability than short-term options, where demand can dry up overnight (as it did during stay at home orders in 2020). 
There are also financial benefits and stability to holding onto a home during an economic downturn. In a recession and times of uncertainty, house prices can go down. But historically, even after major housing crashes — they have gone back up. This means hanging on to property in a downturn can be a good idea to ride out your way back to appreciation.
Roofstock also reported that single-family rentals (SFRs) have provided nearly identical returns to the stock market — but with far less volatility. This makes owning a rental property an attractive investment option to build or diversify your portfolio. 
So whether you deliberately set out to own an investment home or need to hang on to a property to avoid waving goodbye to your record-low interest rate, 2023 is a good time to rent out a home long-term. 
You can help us put homes back in the hands of individuals
Belong believes that both sides of home ownership need to be addressed to overcome the housing crisis facing the US. For homeowners, that means restoring the balance back to individuals so that it's not just corporations who can achieve their financial goals through real estate.
For renters, Belong supports them to get into their own home while they rent. With each on-time rent payment, Belong residents receive credit towards their house deposit, helping them to save towards home ownership while they rent. 
Never worry about your rental home again
Many homeowners hope to one day return to their homes again or make sure their beloved house is well cared for. With Belong, you'll never have to worry about bad residents, late rent, cost blowouts, or 2 am phone calls ever again. 
Belong is simplifying the rental experience across the US and helping more homeowners reach their financial goals through real estate in San Francisco, San Diego, Los Angeles, Miami, Jacksonville, and many more.
Visit our homeowner's page to find out more about how our services are helping people to ditch Seattle Property Management, Redmond Property Management, Oakland Property Management, and more.
Tyler Infelise
Co-Founder & Head of Product
I co-founded Belong because I'm on personal mission to eliminate stressful, anxiety-filled experiences for others. I lead the product team here, bringing with me 10+ years of product management and marketing experience. Prior to Belong, I built a company called Beepi with my cofounders. I am a big foodie, love movies of all kinds, and live for March Madness basketball.